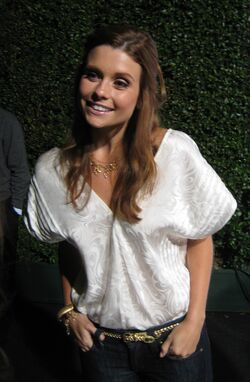 Joanna Leanna García (born August 10, 1979) is an American television and film actress. She is known for her portrayal of Cheyenne Hart-Montgomery on The CW sitcom Reba. She later starred in the ABC sitcom Better with You before it was cancelled due to low ratings in 2011.
In 1992, she played Fiona in the Clarissa Explains It All episode "Take My Advice... Please". From 1993 to 1996, she played Samantha in 37 episodes of Are You Afraid of the Dark? She voiced Shauna in the The Penguins of Madagascar episode "Love Hurts"
Ad blocker interference detected!
Wikia is a free-to-use site that makes money from advertising. We have a modified experience for viewers using ad blockers

Wikia is not accessible if you've made further modifications. Remove the custom ad blocker rule(s) and the page will load as expected.