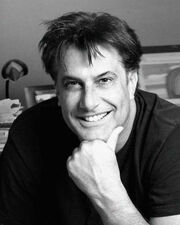 Joseph "Joe" Lawrence Murray (born May 3, 1961) is an American animator, writer, and illustrator best known as the creator of Rocko's Modern Life and Camp Lazlo.
On Rocko, he voiced Ralph Bighead in the episodes "I Have No Son!" and "Wacky Delly". He also made a cameo appearance as himself at the end of the episode "Short Story".
He is the author of Creating Animated Cartoons with Character: A Guide to Developing and Producing Your Own Series for TV, the Web, and Short Film, offering wisdom and expertise on the animation process.