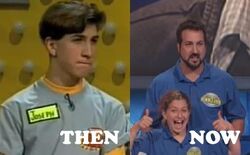 Joseph Anthony Fatone, Jr. (born January 28, 1977) is an American singer, dancer, actor and television personality. He is best known as a member of the boyband, 'N Sync, in which he sang baritone. In 2007, he came in second place on the ABC reality show Dancing with the Stars. He was also the host of the American and Australian versions of The Singing Bee and aired on NBC in the United States. Currently Fatone is the announcer on Family Feud.
Before becoming famous, he appeared on the Nickelodeon game show Nick Arcade. Fatone and his teammate did not qualify for the bonus round.
He performed with his bandmates as the musical guest of the May 27, 2000 episode of All That, performing "Bye, Bye, Bye".
He competed with his daughter Brianna on the Family BrainSurge episode that aired October 11, 2011, which also featured the families of Candace Cameron Bure, Larry King, Anthony Anderson, and Vanessa Williams.