John Kricfalusi
Born
Michael John Kricfalusi
September 9, 1955 (age 61)
Chicoutimi, Quebec, Canada
Other names
Raymond Spüm
John K.
Raymond S.
Creator of
The Ren & Stimpy Show
Occupation(s)
Animator, voice actor, producer, writer, director
Years active
1979–present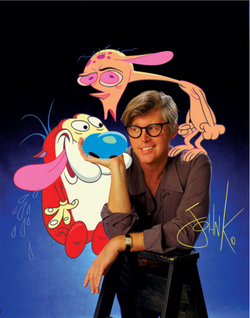 Michael John Kricfalusi is a Canadian animator and voice actor, best known for creating the Nickelodeon animated series The Ren and Stimpy Show.
Early life
Kricfalusi was born on September 9, 1955 in Canada, but he mostly spent his early childhood in Germany and Belguim as a military brat. When he was 7, he returned to his family in Canada.
Career
After working on the new Mighty Mouse series and Benny and Cecil, Kricfalusi formed Spümcø animation studio with partners Jim Smith, Bob Camp and Lynne Naylor and they started working on a pilot that was set to air on Nickelodeon. The pilot was well-received and got good ratings. In response to this, Nick ordered that 13 half-hour episodes be made.
Ren and Stimpy was a huge success for Nickelodeon gathering high ratings despite mixed reviews from critics at the time, but it ran into many problems, as it was targeted by many parents for Ren's domestic violence and gross-out humor. Because of this, Kricfalusi was dismissed by Nick and Bob Camp took over Kricfalsci's job as director and Billy West, who voiced Stimpy, was now the voice of Ren as well.
External links
Ad blocker interference detected!
Wikia is a free-to-use site that makes money from advertising. We have a modified experience for viewers using ad blockers

Wikia is not accessible if you've made further modifications. Remove the custom ad blocker rule(s) and the page will load as expected.