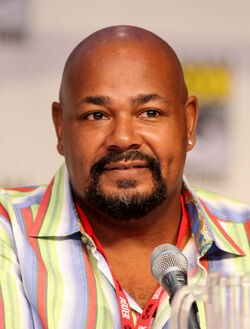 Kevin Michael Richardson (born October 25, 1964) is an American actor and voice artist who currently stars in The Cleveland Show and American Dad!. He is also best known for being the voice of Tartarus in the video game Halo 2.
He has done many voices for Nickelodeon programming, including as A.J.'s dad, Santa Claus, Person McPersoncrusher and both Darth Vader-esque characters, being Dark Laser as well as the Vader parody seen in Abra-Catastrophe! in The Fairly OddParents. His voice was used in the voice-masking microphone in "MicroPhony". He was the second voice for Skulker on Danny Phantom starting in "Life Lessons". He also voices Maurice on The Penguins of Madagascar, and voiced Berry in the Fanboy and Chum Chum episode "Berry Sick". He also voiced Tee in three episodes of The Adventures of Jimmy Neutron: Boy Genius, and voiced Tremendous Jackson in the episode "The Retroville 9". He portrayed King Neptune in the SpongeBob SquarePants episode "Party Pooper Pants".
He voiced Donald the Postman on The Mighty B! and Jimmy in the As Told By Ginger episode "Heat Lightning". He voiced the Shaman in the The Wild Thornberrys episode "Gift of Gab".
He voiced various characters for Planet Sheen, Back at the Barnyard, Random! Cartoons, My Life as a Teenage Robot, Invader Zim, Rugrats, Hey Arnold!, Oh Yeah! Cartoons, and ChalkZone.
Currently, he is the voice of Shredder in Nickelodeon's Teenage Mutant Ninja Turtles cartoon.