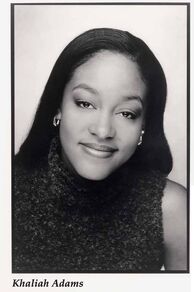 Khaliah Adams (born on July 30, 1982 in New York, New York) is an actress known for her role as Renee Jones on the Nickelodeon series Taina.
In 2002, she appeared as herself on The Nick Cannon Show and provided voice-over work on Dora the Explorer.
In 2006, Khaliah graduated from Carnegie Mellon University in Pittsburgh, Pennyslvania with a degree in Drama.
Her last acting role to date was on the NBC series "Lipstick Jungle" in 2008.
Personal Life
Her cousin is actress Kyla Pratt.
Ad blocker interference detected!
Wikia is a free-to-use site that makes money from advertising. We have a modified experience for viewers using ad blockers

Wikia is not accessible if you've made further modifications. Remove the custom ad blocker rule(s) and the page will load as expected.