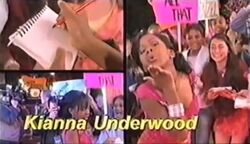 Kianna Underwood (born November 28, 1992) is an American teen actress. Although Underwood has been in show business since she was about 7 years old, her big break came in 2005 when she joined the long running Nickelodeon program All That in its tenth season. In addition, she spent a year on the first national tour of Hairspray as Little Inez. She was born in New York City and currently resides in Los Angeles.
Ad blocker interference detected!
Wikia is a free-to-use site that makes money from advertising. We have a modified experience for viewers using ad blockers

Wikia is not accessible if you've made further modifications. Remove the custom ad blocker rule(s) and the page will load as expected.