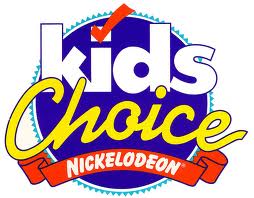 The Nickelodeon Kids' Choice Awards, also know as the KCAs or Kids' Choice Awards are an annual awards show that have been broadcast on Nickelodeon since 1987. The award shows usually air on Saturday nights in the months of March, or early April, to honor the previous year's biggest television, movie, and music acts, as voted by the Nickelodeon fans. The winners receive a hollow orange blimp with the Nickelodeon logo on it. During the awards' show, celebrities and the audience are splashed with slime.
The most recent edition of the Kids' Choice Awards is the 29
th 
edition, realized on 2016, music act, Blake Shelton hosted the ceremony.
List of winners (26th edition)
| Category | Winner |
| --- | --- |
| Favorite TV Show | Victorious |
| Favorite Reality Show | Wipeout |
| Favorite Cartoon | SpongeBob SquarePants |
| Favorite TV Actor | Ross Lynch (Austin & Ally) |
| Favorite TV Actress | Selena Gomez (Wizards of Waverly Place) |
| Favorite Movie | The Hunger Games |
| Favorite Movie Actor | Johnny Depp (Dark Shadows) |
| Favorite Movie Actress | Kristen Stewart (The Twilight Saga: Breaking Dawn - Part 2) |
| Favorite Animated Movie | Wreck-It Ralph |
| Favorite Voice from an Animated Movie | Adam Sandler (Hotel Transylvania) |
| Favorite Male Buttkicker | Dwayne Johnson (Journey 2: The Mysterious Island) |
| Favorite Female Buttkicker | Kristen Stewart (Snow White and the Huntsman) |
| Favorite Music Group | One Direction |
| Favorite Male Singer | Justin Bieber |
| Favorite Female Singer | Katy Perry |
| Favorite Song | "What Makes You Beautiful" (One Direction) |
| Favorite Male Athlete | LeBron James |
| Favorite Female Athlete | Danica Patrick |
| Favorite Villain | Simon Cowell (The X Factor) |
| Favorite Book | The Hunger Games series |
| Favorite Videogame | Just Dance 4 |
| Favorite App | Temple Run |
List of winners (27th edition)
| Category | Winner |
| --- | --- |
| Favorite TV Show | Sam & Cat |
| Favorite Reality Show | Wipeout |
| Favorite Cartoon | SpongeBob SquarePants |
| Favorite TV Actor | Ross Lynch |
| Favorite TV Actress | Ariana Grande |
| Favorite Movie | The Hunger Games: Catching Fire |
| Favorite Movie Actor | Adam Sandler |
| Favorite Movie Actress | Jennifer Lawrence |
| Favorite Animated Movie | Frozen |
| Favorite Voice From An Animated Movie | Miranda Cosgrove (Despicable Me 2) |
| Favorite Animated Animal Sidekick | Patrick Star (SpongeBob SquarePants) |
| Favorite Male Buttkicker | Robert Downey Jr. (Iron Man 3) |
| Favorite Female Buttkicker | Jennifer Lawrence (The Hunger Games: Catching Fire) |
| Favorite Music Group | One Direction |
| Favorite Male Singer | Justin Timberlake |
| Favorite Female Singer | Selena Gomez |
| Favorite Song | "Story of My Life" |
| Favorite Book | Diary of A Wimpy Kid (series) |
| Favorite Videogame | Just Dance 2014 |
| Favorite App | Despicable Me: Minion Rush |
| Most Enthusiastic Athlete | Dwight Howard (Houston Rockets) |
| Favorite Funny Star | Kevin Hart |