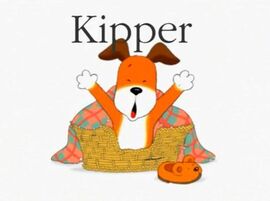 Kipper is a British animated television series based on the books by Mick Inkpen. The show follows the adventures of an orange puppy named Kipper, and his friends Tiger, Pig, and Arnold. Kipper ran from 1997 to 2000 in the United Kingdom, and aired reruns on CiTV in 2004. In America, the show aired on the Nick Jr. programming block from 1999 to 2001, and was also shown on the Noggin channel for a while. The most recent channel to air Kipper is PBS Kids Sprout, from September 2005 until August 2015.

Voices:
Martin Clunes (Kipper)
Chris Lang (Tiger, Pig, Arnold, Jake)
Julia Sawalha (Mouse)

Episodes: Cousins
Ad blocker interference detected!
Wikia is a free-to-use site that makes money from advertising. We have a modified experience for viewers using ad blockers

Wikia is not accessible if you've made further modifications. Remove the custom ad blocker rule(s) and the page will load as expected.