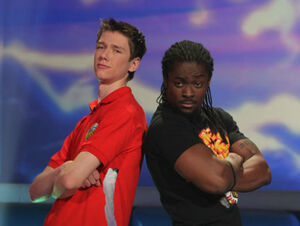 Kofi Sarkodie-Mensah (born August 14, 1981), is a Ghanaian professional wrestler, better known by his ring name, Kofi Kingston. He is currently signed to WWE and works on its Raw brand where he is one half of the WWE Tag Team Champions with R-Truth. Since competing for WWE, he's won 7 total championships: the Intercontinental Championship three times, the United States Championship twice, and the World Tag Team Championship once with CM Punk, WWE Tag Team Championships with Evan Bourne and WWE Tag Team Championships with R-Truth.
In 2011, he competed in an all-WWE edition of Nickelodeon's game show Family BrainSurge.
Ad blocker interference detected!
Wikia is a free-to-use site that makes money from advertising. We have a modified experience for viewers using ad blockers

Wikia is not accessible if you've made further modifications. Remove the custom ad blocker rule(s) and the page will load as expected.