Krabby Patty
Comments

0
1,940pages on
this wiki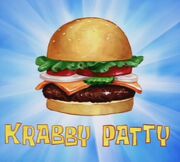 Krabby Patties
are a fictional food from
SpongeBob SquarePants
. Specifically, a Krabby Patty is a sandwich resembling a hamburger sold at the
Krusty Krab
restaurant. The Krabby Patty recipe is kept completely secret.
Sheldon J. Plankton
repeatedly tries to steal the secret formula but has never succeeded until
The SpongeBob SquarePants Movie.
The form in which the Krabby Patty is put together is mentioned in
Plankton!
, when Plankton almost succeeds stealing the formula. The format is bun, patty, cheese, ketchup, mayonaise, mustard, pickles, lettuce, onions, tomatos and top bun.
History (Past Events)
Plankton started complaining about how Jenkins had been old and not able to handle the Kraby Patty. Krabs, only ended up with the corner of the , Plankton attempted to sell his chum burgers in a chum bucket and failed, when Krabs succeeded with his Krabby Patties, which he had created by accident when Plankton had , after the secret ingredient of the original unsuccessful patty recipe. Mr Krab. To this very day, Plankton -mindedly obsessed with obtaining the Krabby Patty formula and running the Krusty business, often going to incredible and often ridiculous lengths to do so.
Health Hazards
The Krabby Patty can and also make you fat and ugly, an unfortunate side effect. When way too many Krabby Patties are eaten at one time, the consumer will get very overweight in the thigh area, and explode. This happened to Squidward Tentacles in Just One Bite when he broke into the Patty Vault and ate too many Krabby Patties at once. Fortunately, Squidward was only reduced to a living head and survived the explosion. However, if one does not have a Krabby Patty after an extensive period, he/she will suffer from Krabby Patty Withdrawal. If one does not eat a Krabby Patty during the withdrawal, he/she will whine about it for a few minutes and/or make a fake order for a Krabby Patty. Like Squidward did when he ordered a Triple Krabby Patty Supreme acting like a customer ordered it. Also, in Creature From The Krusty Krab, it is revealed by Mr. Gilliam that eating too many Krabby Patties causes who ever eats this much, to go crazy and kill Zane.
See Also