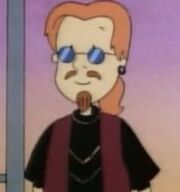 Kyle Harrison
is a minor and recruiting characters of Nickelodeon/Disney's
Doug
.
History
He is a nice loving character of Judy's boyfriend appears in The Funnie's House in Doug's Sister Act where he dated her about the pizza bomb, and leaves after a performance when he kissed Judy Funnie.
Episode Appearance
Doug Cartoons
Doug Sister Act
Ad blocker interference detected!
Wikia is a free-to-use site that makes money from advertising. We have a modified experience for viewers using ad blockers

Wikia is not accessible if you've made further modifications. Remove the custom ad blocker rule(s) and the page will load as expected.