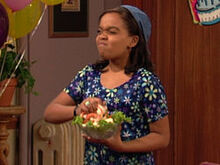 Kyra Rockmore is a character featured on Kenan and Kel. She is Kenan's 7 1/2-year-old sister who has a crush on Kel Kimble.
Kyra has appeared in many episodes, but not enough to make a or even a 50% division. The reason for this was Kyra's actress, Vanessa Baden, was still a child and thus needed to . This is especially prevalent in the final episodes, where Baden by that time was in high school.
Age: 9-10 (Season 1)
10 (Season 2)
11-12 (Season 3)
12-13 (Season 4)
By the closing of the show she (Vanessa) was around 15 years old.
vanes
Ad blocker interference detected!
Wikia is a free-to-use site that makes money from advertising. We have a modified experience for viewers using ad blockers

Wikia is not accessible if you've made further modifications. Remove the custom ad blocker rule(s) and the page will load as expected.