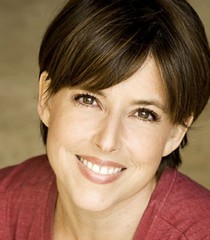 Lara Jill Miller (born April 20, 1967) is an American television, stage and voice actress. She is best known as the voice of Hikari "Kari" Kamiya on the first two seasons of Digimon. But her earliest claim to fame was her role as Samantha "Sam" Kanisky in the 1980s NBC sitcom Gimme A Break!.
She has done a wide array of work for Nickelodeon, including as the voice of Olivia from All Grown Up!, Widget and Huggy on Wow! Wow! Wubbzy!, and Lisa Loud on The Loud House. In the iCarly episode "iFind Lewbert's Lost Love", she plays Mrs. Kravitz, a Bushwell Plaza resident victimized by Chuck Chambers when he robbed her of her television remote controls. Miller recurred as Cathy on The Amanda Show as well as as a nurse on All That.
External links
Ad blocker interference detected!
Wikia is a free-to-use site that makes money from advertising. We have a modified experience for viewers using ad blockers

Wikia is not accessible if you've made further modifications. Remove the custom ad blocker rule(s) and the page will load as expected.