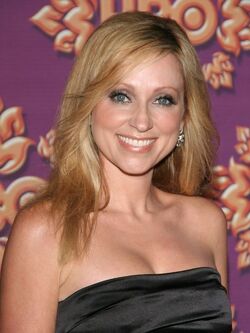 Leigh-Allyn Baker (born April 3, 1972) is an American actress. She is best known for her recurring roles as Hannah Webster on Charmed, and Ellen on Will & Grace. She currently co-stars as Amy Duncan on the Disney Channel sitcom, Good Luck Charlie.
On Nickelodeon, she is best known as the voice of Abby the cow and Etta the hen on Back at the Barnyard. She also voiced Bella Bon Bueno in an episode of The Penguins of Madagascar.
Ad blocker interference detected!
Wikia is a free-to-use site that makes money from advertising. We have a modified experience for viewers using ad blockers

Wikia is not accessible if you've made further modifications. Remove the custom ad blocker rule(s) and the page will load as expected.