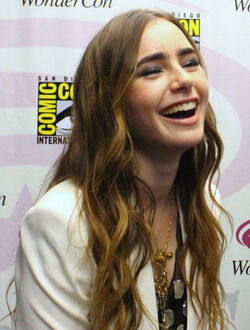 Lily Jane Collins (born March 18, 1989) is a British-American actress and television personality. She is the daughter of British musician Phil Collins.
She first appeared on Nickelodeon for pop culture reports on TEENick, also covering Kids Pick the President 2008, and the 2010 Nickelodeon Kids' Choice Awards.
Ad blocker interference detected!
Wikia is a free-to-use site that makes money from advertising. We have a modified experience for viewers using ad blockers

Wikia is not accessible if you've made further modifications. Remove the custom ad blocker rule(s) and the page will load as expected.