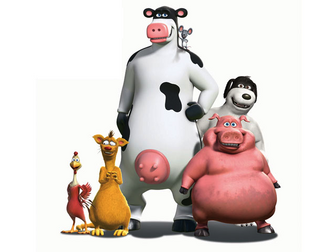 These are characters from the Back at the Barnyard franchise.
Main characters
| Image | Name | Voice actor | Description |
| --- | --- | --- | --- |
| | Otis | Chris Hardwick (show), Kevin James (movie) | Otis is a holstien dairy  bull who is referred to as a cow because of his big udders. His purpose on the farm is to be milked by the farmer even though he doesn't like milking. He is the leader of the barnyard, and the adopted son of the late Ben. He is very strong, courageous (as seen in the Barnyard movie when he defeats the coyotes), goofy, and most importantly, extremely hunky and handsome. Otis loves to pull pranks and hang with his friends Pip, Freddy, Peck, Duke, Miles and Pig. |
| | Pip | Jeffrey Garcia | Pip is the gray, wise-cracking mouse with a slight Mexican accent. He is best friends with Otis and frequently rides around on Otis's shoulder When Otis thought he only had a week to live, Pip attempted to make new best friends with Freddy and Peck, which ended in disaster, i.e. bees coming after them. Pip has an ongoing crush on Bessy. He enjoys raiding mouse traps at Mrs. Beady's house. |
| | Miles | Danny Glover | Miles is the oldest and wisest animal in the Barnyard and he tries his best to keep a level head. Besides Pip, he is sometimes the animal whom Otis talks to for advice. After Ben's death, Miles, in a way, took over as a father-like figure for Otis. His general is keeping Otis out of trouble, maintaining the peace, and reading. |
| | Freddy | Cam Clarke | Freddy is a ferret who also lives in the barnyard. He is known for his unstable mental health, as he is obsessed with eating his friends Peck, Pip and even one of the sheep. Bessy often calls him a 'mangy mongoose'. Freddy has a fondness for explosives, and has been shown to enjoy woodworking, though he only makes pencil cups. He even has the talent to dislocate all of his bones at once, grossing the other animals out. When talking to a human doctor over the phone, he realizes his mom may have only liked him as a friend, much to his sadness. This however is probably not true, as she is very loving to him in the episode "Meet the Ferrets". He is shown to have multiple personalities. He's not a barn animal, but he still stays at the barnyard with all of his friends. He also has a tendency to overreact. |
| | Peck | Rob Paulsen | Peck is a rooster who is best friends with Freddy, despite Freddy's frequent attempts to eat him. He is shown to have trouble cawing, and in one episode is shown teaching yoga. He is also the teacher at the barnyard school, and is said to be accident prone. He is blissfully unaware that Freddy wishes to eat him and thinks such a notion is ridiculous, even though Freddy has begun to eat him multiple times. |
| | Pig | Tino Insana | A dull, obese, pink pig who'd prefer to spend his day eating or grooming his pet skunk Skunky. He's one of Otis's friends. He is revealed to have a "beautiful" singing voice in "Barnyard Idol." He loves to spend his day in mud and filth, making farting sounds with his arm-pit, and stuffing his face. He's also a very good baker, cook, and chef. In one of the episodes, his pies become so famous that a man offers to buy his recipe for a million bajillion dollars, but Pig refuses to sell his grandmother's famous recipe. Pig is the only character named after his animal species. |
| | Duke | Dom Irrera | Duke is the farmer's black & white sheepdog. He isn't shown as often as the other characters, but he is still considered a main character. He's usually a dim-witted dog, while his sheep appear to be geniuses. He hopelessly dreams of being the barnyard leader someday, and in the movie he tried to take leadership after Ben died; of course, no one voted for him except the other dogs and a small kitten. He usually doesn't have very much common sense, and takes pleasure in sniffing others' behinds. |
| | The Farmer | Fred Tatasciore | Farmer Buyer is a short man who considers the animals his family. He is often tricked by the animals. |
| | Abby | Leigh-Allyn Baker | Abby is friends with everyone, though Freddy's unstable mental health frequently strains their friendship. Abby is also very athletic, allergic to petunias, has an obsessive-compulsive addiction for organizing, and loves cats. For some reason, she replaces Daisy, Otis' love interest from the movie. |
| | Bessy | Wanda Sykes | Bessy is the sassy brown cow that has a tendency to yell. She's not afraid to tell it like it is. She, as Otis says, has a "heart of acid". She's usually very mean, especially to Otis. She also knows how to pull a prank. She had a son who floated away with balloons at a county fair. All she has to remember him by is his cowbell, which, strangely, Otis has. In addition, she is the principal of the Barnyard School. |
| | Nora Beady | Maria Bamford | Mrs. Beady is a crazy old woman who tells everyone that animals can walk and talk after seeing Otis and the gang fooling around in her front yard, but nobody believes her. She always calls Nathan, her husband, Mr. Lump, because he sits on a couch all day. |
| | Nathan Beady | Steve Oedekerk | Nathan is very reluctant, depressed, and lazy as he hardly moves from his chair and is constantly seen reading newspapers, watching TV, drinking cans of soda, or eating. Because of this, he is usually nicknamed "Mr. Lump" by Mrs. Beady. Nathan believes that his wife is crazy because of her constant assertions that the animals are sentient, which he is tired of. He considers her a "nut job" and sometimes wishes that he was dead. Once, in the video game, Nathan has stated that he knew he should have married Nora's sister instead. However, it has actually been shown that despite this, he still loves and cares about her. |
Ad blocker interference detected!
Wikia is a free-to-use site that makes money from advertising. We have a modified experience for viewers using ad blockers

Wikia is not accessible if you've made further modifications. Remove the custom ad blocker rule(s) and the page will load as expected.