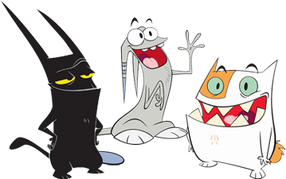 This is the list of Catscratch characters.
Main characters
The Cats




The Humans
Gear
Gear is the cats' Monster Truck. A simple and solid perk of wealth, this massive machine is adored by the brothers for all its audacious guy-ness. Their pride in blasting down the street aboard their beloved Gear is an equal mix of devil-may-care attitude and obliviousness.
Gear's "personalized" license plate is also written in exactly the same style and font as the logo for the comic Gear which loosely inspired the Catscratch series. Also, in the episode mecha kitties, the robot the cats construct resembles the robot from gear. In the episode "To the Moon", Gear is reassembled into a rocket ship.
Kraken
Kraken (voiced by Maurice LaMarche) is a giant squid who has appeared in two Catscratch episodes. The first was, "Tale of the Tail", the other, "Hi Ho Kraken".
Audrey
Gordon, Waffle, and Blik's birth mother. She was only seen in a flashback, and was mentioned once by Gordon (he comments her name was 'Audrey'). She was brown with Gordon's orange eye patch, Waffle's striped tail, and Mr. Blik's pointed ears.  Her current status is unknown, but she is presumed dead. Unlike her sons, who look very comical, she apparently was a serene cat.
Mitchell the Mammoth
A 1 million year old mammoth that was trapped in an ice cube and befriended Mr. Blik. It thought Mr. Blik was his mother so he followed him around in the episode A Woolly Adventure.
Squeakus
A very evil mouse who tricks Waffle into thinking his brothers are mice. In the episode Bringin Down the Mouse, he is described to be the uncatchable mouse, and by Mr. Blik "ugly".
A short but very mean stray dog (voiced by Clancy Brown) who Waffle meets in the episode "Of the leash" where Waffle did a quize that said his a dog. Barkmeat hates cats and finds them tasty. They both are captured and taken to the Dog Pound. They later escape and part ways as Barkmeat gains new found respect for Waffle.
See Also