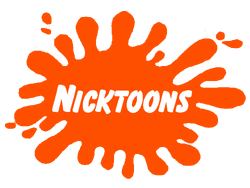 This article is about the cartoons themselves. For the cable channel, see Nicktoons (channel).
Nicktoons are television cartoon shows that are produced and aired on The First Kids' Network. Prior to 1991, animated fare on Nickelodeon comprised mostly of reruns of older cartoons or foreign-made series. The idea for their original Nicktoons programming on the network began in the late 80s, after successes with game and variety shows. Starting in 1989, profits from those programs funded "Nicktoons", with the first three cartoons (Doug, Rugrats and The Ren & Stimpy Show) aired on Sunday, August 11, 1991. This format was repeated every Sunday, eventually leading to the Nicktoons gaining more prominence on the network in the coming years.
List of Nicktoons
Current Nicktoons
The following Nicktoons are still in production.
Logo
Title
Premiere date
Season(s)
Episodes
Co-production

SpongeBob SquarePants

May 1, 1999

9
188
United Plankton Pictures

The Fairly OddParents

March 30, 2001

9
149
Frederator Studios
Billionfold, Inc.

T.U.F.F. Puppy

October 2, 2010

3
60
Billionfold, Inc.

Kung Fu Panda: Legends of Awesomeness

September 19, 2011

3
70
DreamWorks Animation

Teenage Mutant Ninja Turtles

September 29, 2012

3
60
Lowbar Productions

Sanjay and Craig

May 25, 2013

2
31
Forest City Rockers

Rabbids Invasion

August 3, 2013

2
30
Ubisoft Motion Pictures

Breadwinners

February 17, 2014

1
20
Titmouse, Inc.
Past Nicktoons
The following Nicktoons are no longer in production, although some of them may still aired on some other channels.
Logo
Title
Premiere date
End date
Season(s)
Episodes
Co-productions

Doug

August 11, 1991

January 2, 1994

4
52
Jumbo Pictures
Ellipse Programming

Rugrats

August 11, 1991

June 8, 2004

9
172
Klasky-Csupo

The Ren & Stimpy Show

August 11, 1991

November 14, 1996

5
52
Spumco

Rocko's Modern Life

September 18, 1993

November 24, 1996

4
52
Joe Murray Productions

Aaahh!!! Real Monsters

October 29, 1994

December 6, 1997

4
52
Klasky-Csupo

KaBlam!

October 7, 1996

January 22, 2000

4
48
Flying Matters, Inc.

Hey Arnold!

October 7, 1996

June 8, 2004

5
100
Snee-Oosh

The Angry Beavers

April 19, 1997

November 11, 2001

4
63
Gunther-Wahl Productions

CatDog

April 4, 1998

July 24, 2004

4
66
Peter Hannah Productions

Oh Yeah! Cartoons

July 17, 1998

May 26, 2001

1
39
Frederator Studios

The Wild Thornberrys

September 1, 1998

June 11, 2004

5
92
Klasky-Csupo

Rocket Power

August 16, 1999

July 30, 2004

3
71
Anvision
Klasky Csupo

Pelswick

October 2, 2000

November 15, 2002

2
26
Hong Kong Animation
Nelvana

As Told by Ginger

October 25, 2000

November 14, 2006

3
60
Klasky-Csupo

Invader Zim

March 30, 2001

August 19, 2006

2
27
N/A

Action League Now!

March 30, 2001

December 31, 2002

1
12
Augenblick Studios

ChalkZone

March 22, 2002

August 23, 2008

4
40
Frederator Studios

The Adventures of Jimmy Neutron: Boy Genius

July 20, 2002

November 25, 2006

3
61
O Entertainment
DNA Productions

All Grown Up!

April 12, 2003

August 17, 2008

5
55
Klasky-Csupo

My Life as a Teenage Robot

August 1, 2003

May 2, 2009

3
40
Frederator Studios

Danny Phantom

April 3, 2004

August 24, 2007

3
53
Billionfold, Inc.

Avatar: The Last Airbender

February 21, 2005

July 19, 2008

3
61
N/A

Catscratch

July 9, 2005

February 10, 2007

1
20
N/A

The X's

November 25, 2005

December 13, 2006

1
20
N/A

Mr. Meaty

September 22, 2006

May 23, 2009

2
20
3J's Productions

El Tigre: The Adventures of Manny Rivera

March 3, 2007

September 13, 2008

1
26
Mexopolis, Inc.

Wayside

March 16, 2007

September 1, 2008

2
26
Nelvana

Tak and the Power of Juju

August 31, 2007

January 24, 2009

1
26
THQ

Back at the Barnyard

September 29, 2007

November 12, 2011

2
52
Omation Animation Studios

The Mighty B!

April 26, 2008

June 12, 2011

2
40
Paper Kite Productions
Polka Dot Pictures

Rugrats Pre-School Daze

November 16, 2008

December 4, 2008

1
4
Klasky-Csupo

The Penguins of Madagascar

November 29, 2008

December 24, 2013

3
149
DreamWorks Animation

Fanboy & Chum Chum

November 6, 2009

July 12, 2014

2
52
Frederator Studios

Planet Sheen

October 2, 2010

February 15, 2013

1
26
Omation Animation Studios

The Legend of Korra

April 14, 2012

December 19, 2014

4
52
N/A

Robot and Monster

August 4, 2012

July 19, 2014

[1]
1
26
Smasho! Productions
Lowbar Productions

Monsters Vs. Aliens

March 23, 2013

February 8, 2014

1
26
DreamWorks Animation
Future Nicktoons
Movies based on Nicktoons
Theatrical films
Direct-to-video and made-for-TV films
Trivia
See also
References