Ad blocker interference detected!
Wikia is a free-to-use site that makes money from advertising. We have a modified experience for viewers using ad blockers

Wikia is not accessible if you've made further modifications. Remove the custom ad blocker rule(s) and the page will load as expected.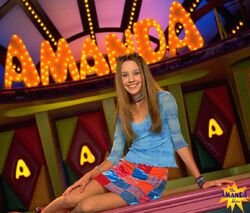 This is the list of appearances & characters of The Amanda Show
Main Cast
Amanda Bynes(Host)
| Character | Actress | Season One | Season Two | Season Three | First Appearance |
| --- | --- | --- | --- | --- | --- |
| Herself | Amanda Bynes | 13 episodes | 17 episodes | 9 episodes | "Pilot" |
The Amanda Show is an American live-action sketch comedy and variety show that aired on Nickelodeon hosted by Amanda Bynes. It starred off with Drake Bell, and Josh Peck, along with several performing artists who came and left at different points, such as John Kassir, Raquel Lee, and Nancy Sullivan. The show was a spin-off from All That, in which Bynes co-starred years earlier. The show was unexpectedly cancelled in the end of 2002, according to creator Dan Schneider's blog.
Drake Bell
| Character | Actor | Season One | Season Two | Season Three | First Appearance |
| --- | --- | --- | --- | --- | --- |
| Himself | Drake Bell | 13 episodes | 17 episodes | 9 episodes | "Pilot" |
Nancy Sullivan
| Character | Actress | Season One | Season Two | Season Three | First Appearance |
| --- | --- | --- | --- | --- | --- |
| Herself | Nancy Sullivan | 13 episodes | 17 episodes | 9 episodes | "Pilot" |
Raquel Lee
| Character | Actress | Season One | Season Two | Season Three | First Appearance |
| --- | --- | --- | --- | --- | --- |
| Herself | Raquel Lee | 13 episodes | 0 episodes | 0 episodes | "Pilot" |
Johnny Kassir
| Character | Actor | Season One | Season Two | Season Three | First Appearance |
| --- | --- | --- | --- | --- | --- |
| Himself | Johnny Kassir | 13 episodes | 0 episodes | 0 episodes | "Pilot" |
Jenna Morrison
| Character | Actor | Season One | Season Two | Season Three | First Appearance |
| --- | --- | --- | --- | --- | --- |
| Himself | Logan Benton | 13 episodes | 17 episodes | 9 episodes | "Pilot" |
Jamie Snow
Character
Actress
Season One
Season Two
Season Three
First Appearance
Herself
Jamie Snow
13 episodes
17 episodes
9 episodes
Ashley Edner
| Character | Actress | Season One | Season Two | Season Three | First Appearance |
| --- | --- | --- | --- | --- | --- |
| Herself | Ashley Edner | 13 episodes | 17 episodes | 9 episodes | "Pilot" |
Andrew Hill Newman
| Character | Actor | Season One | Season Two | Season Three | First Appearance |
| --- | --- | --- | --- | --- | --- |
| Himself | Andrew Hill Newman | 13 episodes | 17 episodes | 9 episodes | "Pilot" |
Josh Peck
| Character | Actor | Season One | Season Two | Season Three | First Appearance |
| --- | --- | --- | --- | --- | --- |
| Himself | Josh Peck | 0 episodes | 17 episodes | 9 episodes | Episode# 14 |
Reagan Gomez-Preston
| Character | Actress | Season One | Season Two | Season Three | First Appearance |
| --- | --- | --- | --- | --- | --- |
| Herself | Reagan Gomez-Preston | 0 episodes | 17 episodes | 9 episodes | Episode# 14 |
Radley Watkins
| Character | Actor | Season One | Season Two | Season Three | First Appearance |
| --- | --- | --- | --- | --- | --- |
| Himself | Radley Watkins | 0 episodes | 17 episodes | 9 episodes | Episode# 14 |
Molly Orr
| Character | Actress | Season One | Season Two | Season Three | First Appearance |
| --- | --- | --- | --- | --- | --- |
| Herself | Molly Orr | 0 episodes | 17 episodes | 9 episodes | Episode# 14 |
Taran Killam
| Character | Actor | Season One | Season Two | Season Three | First Appearance |
| --- | --- | --- | --- | --- | --- |
| Himself | Taran Killam | 0 episodes | 17 episodes | 9 episodes | Episode# 14 |
Dan Schneider
| Character | Actor | Season One | Season Two | Season Three | First Appearance |
| --- | --- | --- | --- | --- | --- |
| Himself | Dan Schneider | 13 episodes | 17 episodes | 9 episodes | "Pilot" |
Brian Ahearn
| Character | Actor | Season One | Season Two | Season Three | First Appearance |
| --- | --- | --- | --- | --- | --- |
| Himself | Brian Ahearn | 13 episodes | 17 episodes | 9 episodes | "Pilot" |
External links
|}