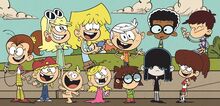 The following is a list of characters featured in the Nicktoon The Loud House and/or its upcoming spin-off Los Casagrandes.
The Loud family
Image
Name
Voice actor
Description

Lincoln Loud
Sean Ryan Fox (pilot);
Grant Palmer (episodes 1-22)
Collin Dean (episode 23 onward)
The series' protagonist, an 11-year-old boy who is the only son and middle kid in his family.

Lori Loud
Catherine Taber
The oldest sister in the family and the deuteragonist. She is a sassy and cynical teenager who bosses her siblings around and is often calling or texting her boyfriend Bobby on her smartphone.

Leni Loud
Liliana Mumy
The second-oldest sister in the family. She is kind-hearted, but also not very bright.

Luna Loud
Nika Futterman
The third-oldest sister in the family. She is a free-spirited musician with an interest in rock and roll music.

Luan Loud
Cristina Pucelli
The fourth-oldest sister in the family. She is a funny fourteen-year-old comedic prankster.

Lynn Loud Jr.
Jessica DiCicco
The fifth-oldest sister in the family. She is an athletic 13-year old.

Lucy Loud
Jessica DiCicco
The fifth-youngest sister in the family. Lucy is an goth girl with a tendency to suddenly appear in places, which often frightens her siblings.

Lana Loud
Grey Griffin
The fourth-youngest of the sisters, and the older of the family's two twin girls. Lana loves to play in mud, much to her twin Lola's annoyance.

Lola Loud
Grey Griffin
Lana's polar-opposite identical twin sister. Lola is a conceited and bratty girl who often assumes the role of an antagonist whenever her siblings anger her.

Lisa Loud
Lara Jill Miller
The second-youngest sister in the family who, despite her young age, is very smart.

Lily Loud
Grey Griffin
The youngest sister in the family. She is only one year old, and her diaper has a foul smell, which she takes off mostly.

Lynn Loud Sr. and Rita Loud
Brian Stepanek and Jill Talley
The parents of the Loud family. Both of their faces were never seen onscreen in the first season, eventually being revealed in "11 Louds a Leapin'".

Charles
Dee Bradley Baker
The Loud family's pet pitbull terrier dog.

Cliff
Dee Bradley Baker
The Loud family's pet cat.

Geo
N/A
The Loud family's pet hamster, almost always seen inside his plastic hamster ball.

Walt
N/A
The Loud family's pet canary.

Hops
N/A
One of Lana's pet frogs, and a very intelligent one at that.

Izzy
N/A
Lana's pet lizard.
Supporting characters
Image
Name
Voice actor
Description

Clyde McBride
Caleel Harris (Season 1-3);
Andre Robinson (Season 3 onwards)
Lincoln's best friend, who serves as a wingman to him in his exploits and has an unrequited crush on Lori.

Howard and Harold McBride
Michael McDonald and Wayne Brady
Clyde's overprotective same gender parents who care deeply about their son's well-being.

Mr. Grouse
John DiMaggio
The Loud family's curmudgeonly neighbor who frequently complains about and heckles their antics.

Bobby Santiago
Carlos Pena, Jr.
Lori's boyfriend, who is normally seen texting or calling her. He works in his family's bodega downstairs.

Ronnie Anne Santiago
Breanna Yde
Lincoln's best friend and Bobby's younger sister, who enjoys skating and pranks.

The Casagrande Family

Maria Santiago
Sumalee Monatano
Bobby and Ronnie Anne's mother, who works as a nurse.

Luan Loud
Sonia Manzano
Ronnie and Bobby's grandmother.

Hector Casagrande
Hector and Ronnie's grandfather.

Carlos Casagrande
Carlos Alazraqui
Ronnie and Bobby's bibliophilic and absent-minded uncle who teaches at a university in the Big City. He is named after his voice actor.

Frida Puga Casagrande
Roxanna Ortega
Bobby and Ronnie's aunt.

Carlota Casagrande
Alexa PenaVega
The oldest of the Casagrande kids who loves fashion.

CJ Casagrande
Grey Griffin
The second oldest of the Casagrande kids who has Down Syndrome.

Carl Casagrande
The second youngest of the kids, who acts like a wannabe Lothario.

Carlitos Casagrande
Grey Griffin
The youngest in the family, who is a year older than Lily.
Minor characters