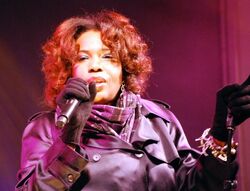 Macy Gray, born Natalie Renee McIntyre is a Grammy Award winning American R&B and soul singer-songwriter, record producer, and actress, famed for her distinctive raspy voice and a singing style heavily influenced by Billie Holiday and Betty Davis.
She performed the theme song "I'm Inbetween" for the Nickelodeon animated series As Told by Ginger.
In 2004, she appeared as herself in the Blue's Clues episode "Bluestock".
Ad blocker interference detected!
Wikia is a free-to-use site that makes money from advertising. We have a modified experience for viewers using ad blockers

Wikia is not accessible if you've made further modifications. Remove the custom ad blocker rule(s) and the page will load as expected.