Nickipedia is a free, public and collaborative encyclopedia for everything related to Nickelodeon and the network's corporation: television networks, films, television shows, characters, and more. The wiki format allows anyone to create or edit any article, so we can all work together to create a comprehensive database for all Nickelodeon fans. On here you will find all the main information of Nickelodeon's biggest hits like SpongeBob SquarePants, Rugrats, The Ren and Stimpy Show, All That, Avatar: The Last Airbender, The Loud House, and more! Check out the Help pages to get started!
Nickipedia is a fan site and is in no way affiliated with Nickelodeon and/or its subsidiaries or affiliates.
About This Wiki
Nickipedia is an open source encyclopedia about the TV channel, Nickelodeon, started on April 28, 2005. New to Nickipedia? Well, browse it and learn about it. To write a new article for the wiki, enter the page title in the box below. (NOTE: Please ensure that you have an account and logged in to do this.)
Featured Poll
(Note to editors: if you change anything in a poll, voting will start over. Please use proper grammar and punctuation.)
What did you think about Nickelodeon's newest cartoon, Bunsen is a Beast?
Wanted Pages
Although this wiki is big, we still need a few more pages!
and more found at Wanted Pages!
Did You Know?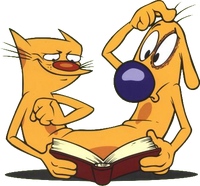 CatDog was originally going to be a series of two-minute shorts, but after Peter Hannan wrote the theme song, it convinced Nickelodeon to greenlight it for a full series.
Community Corner
Nickipedia is a fan-made Nickelodeon information database collaboration. We are not affiliated with Nickelodeon, its sponsors, owners, etc. Please do not publish sensitive information such as your address or phone number here, as it can be seriously dangerous and might cause theft or fraud.
---
We are currently trying to categorize all pages to possibly be featured! This can attract some more users that we are very much in need of.
---
The first project of the month has started! For more info, look on the main page. If you have any questions, just ask our admins like Webly, RRabbit42, JeremyCreek, or RandomRock.
Ad blocker interference detected!
Wikia is a free-to-use site that makes money from advertising. We have a modified experience for viewers using ad blockers

Wikia is not accessible if you've made further modifications. Remove the custom ad blocker rule(s) and the page will load as expected.