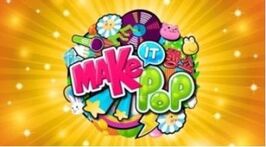 Make It Pop is a K-Pop inspired Canadian-American that currently airs on Nickelodeon on April 6, 2015.
Summary
Make It Pop is a new half-hour comedy where diva Sun Hi (Megan Lee), fashionista Jodi (Louriza Tronco) and bookworm Corki (Erika Tham) must learn to live together in perfect harmony after they are randomly selected to room together at boarding school. With the help of fellow classmate and aspiring DJ, Caleb (Dale Whibley), the girls grow from roommates to bandmates as their group, XO-IQ, becomes a school-wide sensation and they compete for a place in the upcoming school musical, all while balancing music, grades, relationship and crushes.[1]
Main Cast
References
Links
Ad blocker interference detected!
Wikia is a free-to-use site that makes money from advertising. We have a modified experience for viewers using ad blockers

Wikia is not accessible if you've made further modifications. Remove the custom ad blocker rule(s) and the page will load as expected.