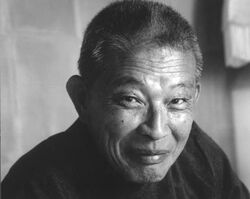 Mako Iwamatsu (岩松 マコ, Iwamatsu Mako), born Makoto Iwamatsu (岩松 信, Iwamatsu Makoto) (December 10, 1933 – July 21, 2006), was an Oscar- and Tony-nominated Japanese actor. Many of his acting roles credited him simply as Mako, omitting his surname.
He is best known as Iroh, uncle to Zuko on Avatar: The Last Airbender. His first role with Nickelodeon was as Mr. Yamaguchi in Rugrats in Paris: The Movie. Notably, his last role was as Splinter in Imagi Animation Studios' Teenage Mutant Ninja Turtles CGI film, released just two years before Nickelodeon bought the franchise.
Following his death, which occurred after production of the second season, the Avatar episode "The Tales of Ba Sing Se"'s third segment, "The Tale of Iroh", was dedicated to Mako. Greg Baldwin voiced Iroh for the third season.
In the spinoff series The Legend of Korra, a firebending friend of Korra's, voiced by David Faustino, has been named in his memory.
Ad blocker interference detected!
Wikia is a free-to-use site that makes money from advertising. We have a modified experience for viewers using ad blockers

Wikia is not accessible if you've made further modifications. Remove the custom ad blocker rule(s) and the page will load as expected.