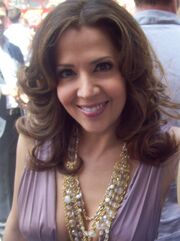 María Canals Barrera (born María Pilar Canals; September 28, 1966) is an American actress, voice actress and singer. She is best known for her roles as Theresa Russo in Wizards of Waverly Place, Connie Torres in Camp Rock and Camp Rock 2: The Final Jam, and as the voice of Shayera Hol/Hawkgirl in Justice League and Justice League Unlimited.
For Nickelodeon, she was the voice of Paulina on Danny Phantom.
Ad blocker interference detected!
Wikia is a free-to-use site that makes money from advertising. We have a modified experience for viewers using ad blockers

Wikia is not accessible if you've made further modifications. Remove the custom ad blocker rule(s) and the page will load as expected.