Ad blocker interference detected!
Wikia is a free-to-use site that makes money from advertising. We have a modified experience for viewers using ad blockers

Wikia is not accessible if you've made further modifications. Remove the custom ad blocker rule(s) and the page will load as expected.
Marshall is a dalmatian pup who is seen to be silly and clumsy. Despite all of his silliness, he helps Ryder countless times during missions. His main color is red, given that is the color of his uniform (which normally features a fire helmet on duty), and pup pack.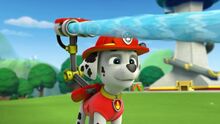 Marshall is a dalmatian from the very popular show "PAW Patrol".
Outfit apparels (some main ones);
Season 1 look(s): Normal/Standard outfit
Season 2 look(s): Pup-Fu (in "Pup-Fu" only), EMT outfit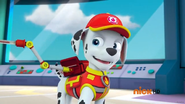 Season 3 look(s): Air Rescue Uniform