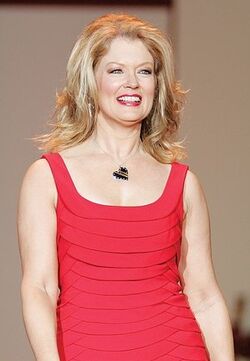 Mary Hart (born November 8, 1950) is an American television personality and was the host of the syndicated gossip and entertainment round-up program Entertainment Tonight from 1982 to 2011.
On The Fairly OddParents, she voices a fairy version of herself, named Fairy Hart, covering such events as Poof's birth in "Fairly Odd Baby" and the Fairy/Anti-Fairy annual bake-off in "Balance of Flour".
She also voiced a newscaster in The Adventures of Jimmy Neutron: Boy Genius.