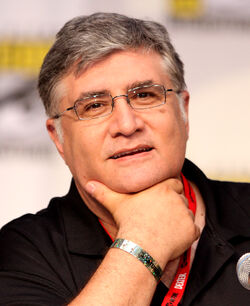 Maurice LaMarche (born March 30, 1958) is an Emmy Award winning Canadian-American voice actor and former stand up comedian. He is best known for his voicework in Futurama as Kif Kroker, as Egon Spengler in The Real Ghostbusters, Verminous Skumm and Duke Nukem in Captain Planet and the Planeteers, Dizzy Devil in Tiny Toon Adventures, The Brain in Animaniacs and Pinky and The Brain, and his portrayal of Mr. Freeze in Batman: Arkham City. He is well-known for his Orson Welles impression.
On Nickelodeon, he is best known as Big Bob Pataki on Hey Arnold!, where he also voiced various minor characters. He reprised his main role for the show in the Nickelodeon Movie Hey Arnold!: The Movie. In the episode "Arnold's Halloween", LaMarche voiced Douglas Cain, a character inspired by and parodying Orson Welles. Listening to Cain's broadcast, Pataki even says "This guy knows what he's talking about!", a likely allusion to the shared voice actor. In the episodes "Stinky Goes Hollywood" and "It Girl", LaMarche voiced Revis, a parody of Regis Philbin.
LaMarche also voiced Hovis on Catscratch, and Zix and Tee on The Adventures of Jimmy Neutron: Boy Genius. He also voiced characters in Random! Cartoons and Tak and the Power of Juju. He voiced Igg in the Nickelodeon Movie Barnyard, and reprised the role for the spinoff television series Back at the Barnyard, where he also voiced the character Einstein.