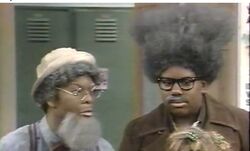 Mavis and Clavis are a pair of old people from All That, played by Kenan and Kel). They made numerous appearances in sketches for the first five seasons, and were also heard offscreen at the end of every episode in those seasons. They were most likely a parody of Statler and Waldorf from The Muppet Show. They reappeared during the 100th Episode Live! and 10th Anniversary specials. In one episode, it was revealed that Clavis is the cousin of Coach Kreeton.
Ad blocker interference detected!
Wikia is a free-to-use site that makes money from advertising. We have a modified experience for viewers using ad blockers

Wikia is not accessible if you've made further modifications. Remove the custom ad blocker rule(s) and the page will load as expected.