Ad blocker interference detected!
Wikia is a free-to-use site that makes money from advertising. We have a modified experience for viewers using ad blockers

Wikia is not accessible if you've made further modifications. Remove the custom ad blocker rule(s) and the page will load as expected.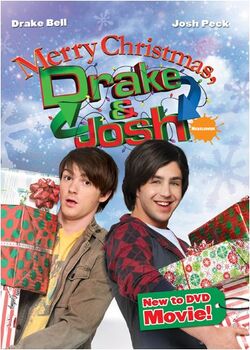 Merry Christmas, Drake & Josh is an American television movie based on the Nickelodeon sitcom, Drake & Josh. The film premiered on December 5, 2008 as a Nickelodeon Original Movie. It is also the third most viewed television movie behind High School Musical 2 and Wizards of Waverly Place: The Movie. The film premiered 15 months after the end of the original Drake & Josh series.
Plot
Audrey and Walter leave for a tropical vacation leaving Drake, Josh, and Megan alone for the holidays until they come back. Drake then tells Josh that he is having a Christmas party on the roof of The Premiere mall, Helen will allow it if she is invited (and if there is churros). Helen then hands Drake a Santa costume to wear in the mall, but Josh is upset because he can't be Santa (since he lost weight over the years) and a annoyed Josh is told to be Santa's Sack of Toys, after getting chased by a overweight woman Drake bumps into a girl named Mary Alice who asks Drake to give her and her family "the best Christmas ever" and she makes him promise which he does. At the party, Josh is upset since Mindy for the holidays since she is going away to visit her grandparents, Drake tells Josh that he is going to Las Vegas for the holidays to hear a band play inviting Josh but gets upset since they won't be able to spend Christmas together, and then a few party crashers come to the party then Josh calls the police but he gets mistaken as one of the party crashers and gets arrested, but he ends up in the back of a pickup truck and the reckless truck drives off with the police trailing close behind. Josh is then tumbles out after the truck turns at a intersection. Josh is then arrested and is sent to jail, he is sent to prison and meets his roommate, Bludge but Josh entertains him with magic tricks. Drake then tries to break Josh out of jail but fails when he gets caught and he gets arrested, too. Drake and Josh are taken to court when the Judge tells them that they could spend years, years, and years in prison but Helen comes to the rescue. Helen notifies the Judge about Drake's promise to Mary Alice as the Judge says he won't send them to jail unless they fulfill that promise. After they are released, Drake and Josh meet Officer Perry Gilbert who tells them if he gets a "no" from Mary Alice or any of the other foster kids they will get go to jail.
Cast
Drake Bell as Drake Parker
Josh Peck as Josh Nichols
Jerry Trainor as Crazy Steve
Miranda Cosgrove as Megan Parker
Yvette Nicole Brown as Helen Dubois
Nancy Sullivan as Audrey Parker
Jonathon Goldstein as Walter Nichols
Scott Halberstadt as Eric Blonnwitz
Alec Medlock as Craig Ramriez
Jake Farrow as Gavin
Movie only
Baliee Madison as Mary Alice Johnassan
Devon Graye as Luke
Camille and Cosette Goldstein as Lily and Violet
Daven Wilson as Trey
David Gore as Zigfee
Kimbo Slice as Bludge
David Pressman as Officer Perry J. Glibert
Henry Winkler as Judge Newman