Ad blocker interference detected!
Wikia is a free-to-use site that makes money from advertising. We have a modified experience for viewers using ad blockers

Wikia is not accessible if you've made further modifications. Remove the custom ad blocker rule(s) and the page will load as expected.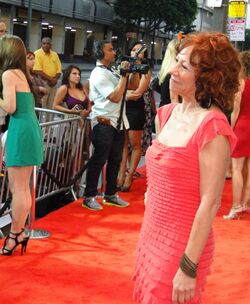 Mindy Lee Sterling (born July 11, 1953) is an American actress. Although she had worked in film for over 30 years, she only began to garner attention after playing Frau Farbissina, the diminutive and domineering Germanic cohort of Dr. Evil, played by Mike Myers in the Austin Powers series of comedy films.
For Nickelodeon, she voiced Ms. Powell, the gym teacher, in the As Told By Ginger episode "Gym Class Confidential". She also voiced Countess von Verminstrasser in Invader Zim. Her most prominent Nickelodeon role has been as Francine Briggs, the English teacher and briefly co-principal for Carly Shay, Freddie Benson, and Sam Puckett at Ridgeway High School on iCarly