Nick Jr. Too (formely called Nick Jr. 2) is Nick Jr.'s second channel in the United Kingdom and Ireland, generally presenting popular Nick Jr. programming at other times of the day. It launched 24 April, 2006.
Currently, Nick Jr. Too carries a schedule separate from the main Nick Jr. channel; however, during the first week after launching, it was basically a one-hour timeshift of Nick Jr.
On August 2007, Nick Jr. Too was launched on Virgin Media. The channel launched an Irish feed in October 2013.
Nick Jr. Peppa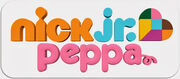 The channel has been rebranded
Nick Jr. Peppa
on a number of occasions, where Peppa Pig is the only show broadcast, for a month at a time. This first occurred in October 2013, for two months, and again in April 2014 and October 2014.
Programming
Current programming
Former Programming
Trivia
Former logos
See also
pt:Nick Jr. 2