Nick News
is a news documentary program that has been airing since 1992.It is currently the longest running series on Nickelodeon in terms of seasons.The show is hos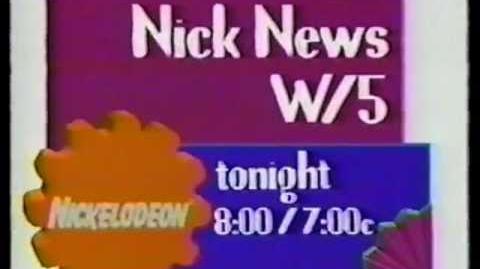 ted by
Linda Ellerbee
and has been since the shows debut.Nick News has been honored with several awards,inclueding,three Peabody Awards and three Emmy Awards.
Added by

MyaiCarlyFreak

Format

Created by

Presented by

Linda Ellerbee

Country of origin

United States

Language(s)

English

No. of seasons

19

No. of episodes

250+

Production

Executiveproducer(s)

=====Linda Ellerbee Rolfe Tessem=====

Running time

22 minutes

Productioncompany(s)

Lucky Ducky Productions[1]Nickelodeon Productions

Broadcast

Original channel

Picture format

Original run

May 1, 1992 – present
Linda Ellerbee
Nick News has been hosted by Linda Ellerbee since the show's inception in 1992. Ellerbee was one of five candidates auditioned over the course of two weeks. She was chosen because her competitors were "too loud and obnoxious", claimed one of the show's set designers. According to Ellerbee: "I was honored when I was named the host of Nick News. The  show will be about kids and their everyday lives." Ellerbee has never missed an episode due to illness. The show is officially known as Nick News with Linda Ellerbee. Throughout the years, Nick News has featured special guests of honor, such as Al Gore, Bill Cosby, Faith Hill, Rosie O'Donnell, Magic Johnson, Bill Clinton, and Dr. Phil.