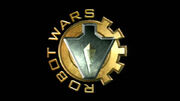 Nickelodeon Robot Wars is a game show that aired on Nickelodeon from August 25, 2002 to October 6, 2002. Hosted by Dave Aizer, the show was Nickelodeon's take on Robot Wars, the popular and long-running robot-fighting game show. The show was canceled after one season, and subsequently aired on Nickelodeon GAS.
The series of six shows was filmed at Shepperton Studios in England in January 2002 at the same time as the second season of the Robot Wars Extreme Warriors series shown on 'The New TNN' American television network (now Spike TV). Both shows featured American teams and robots flown to England for the filming.
Ad blocker interference detected!
Wikia is a free-to-use site that makes money from advertising. We have a modified experience for viewers using ad blockers

Wikia is not accessible if you've made further modifications. Remove the custom ad blocker rule(s) and the page will load as expected.