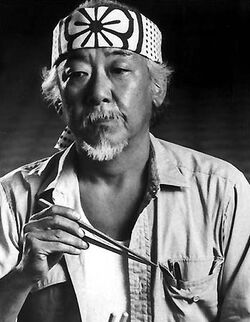 Noriyuki "Pat" Morita (June 28, 1932 – November 24, 2005) was an American actor of Japanese descent who was well-known for playing the roles of Matsuo "Arnold" Takahashi on Happy Days and Mr. Miyagi in the The Karate Kid movie series, for which he was nominated for the Academy Award for Best Supporting Actor in 1984.
He played Mike Woo, the main character's grandfather on Nickelodeon's The Mystery Files of Shelby Woo.
One of his last roles was as Master Udon in the SpongeBob SquarePants episode "Karate Island". The episode was dedicated to him, but the dedication is edited out in later airings. Also at the end of the episode, there was his picture with caption "R.I.P Pat Morita, 1932-2005". 
Ad blocker interference detected!
Wikia is a free-to-use site that makes money from advertising. We have a modified experience for viewers using ad blockers

Wikia is not accessible if you've made further modifications. Remove the custom ad blocker rule(s) and the page will load as expected.