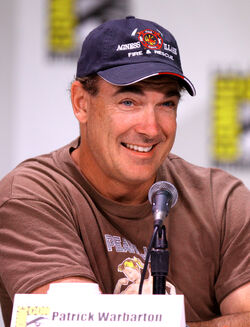 Patrick John Warburton (born November 14, 1964) is an American actor of television, film, and voice. He is best known for his several TV roles, including the title role of The Tick, David Puddy on Seinfeld, the evil Johnny Johnson on NewsRadio, and anchorman Jeb Denton on Less Than Perfect. As a voice actor, his distinctive deep voice has been lent to well-known roles including Ken in Bee Movie, Kronk in The Emperor's New Groove and its sequels and spinoff, bodyguard Brock Samson on The Venture Bros., paraplegic police officer Joe Swanson on Family Guy, Steve Barkin on Kim Possible, Buzz Lightyear in the Buzz Lightyear of Star Command TV series, and The Wolf in Hoodwinked, among others. He currently stars as macho married man Jeff Bingham in the CBS television program Rules of Engagement.
He is best known on Nickelodeon as the voice of spy family patriarch Mr. X on The X's. He also voiced Lok in the Tak and the Power of Juju video games and its television series spinoff. In 2009, he voiced the two MERF agents in the The Fairly OddParents special Wishology.
Ad blocker interference detected!
Wikia is a free-to-use site that makes money from advertising. We have a modified experience for viewers using ad blockers

Wikia is not accessible if you've made further modifications. Remove the custom ad blocker rule(s) and the page will load as expected.