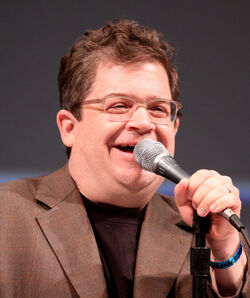 Patton Oswalt (born January 27, 1969) is an American stand-up comedian, writer, actor and voice actor. He is best known for portraying Spencer Olchin in the popular sitcom The King of Queens, voicing Remy from the film Ratatouille and Thrasher from the Cartoon Network original series Robotomy and Nom Nom from We Bare Bears.
He played the live-action creator of the Crimson Chin comic book universe in the The Fairly OddParents episode "The Big Superhero Wish!"
He later voiced Jim, the predecessor to SpongeBob SquarePants as the Krusty Krab's fry cook in the SpongeBob SquarePants episode "The Original Fry Cook".
Ad blocker interference detected!
Wikia is a free-to-use site that makes money from advertising. We have a modified experience for viewers using ad blockers

Wikia is not accessible if you've made further modifications. Remove the custom ad blocker rule(s) and the page will load as expected.