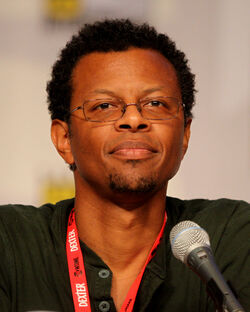 Phillip "Phil" LaMarr (born January 24, 1967) is an American actor and voice actor. He was one of the original cast members on the sketch comedy series MADtv, and has had an extensive voice acting career, with major roles spanning animated series Justice League, Futurama, Samurai Jack, Static Shock, and Foster's Home for Imaginary Friends.
For Nickelodeon, his voice credits include M, Poop Dawg and Noogums in Invader Zim, Jamie O from Hey Arnold!, Tuku from The Wild Thornberrys, Bolbi Stroganovsky from The Adventures of Jimmy Neutron: Boy Genius, Mr. Phiper from The Fairly OddParents, Raheem and Captain Photon from El Tigre: The Adventures of Manny Rivera, and Baxter Stockman from Teenage Mutant Ninja Turtles. He also played Hawk in Big Time Rush.
External links
Ad blocker interference detected!
Wikia is a free-to-use site that makes money from advertising. We have a modified experience for viewers using ad blockers

Wikia is not accessible if you've made further modifications. Remove the custom ad blocker rule(s) and the page will load as expected.