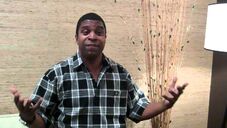 Phil Moore (born August 24, 1961 in Baltimore, Maryland) is an American actor, rapper and comedian.
He is best known as the host of the Nickelodeon game shows Nick Arcade and You're On! He was the special guest in the pilot episode of All That and the Weinerville episode "Variety Show or Sitcom". He also appeared as a panelist in episodes of Figure It Out.
Ad blocker interference detected!
Wikia is a free-to-use site that makes money from advertising. We have a modified experience for viewers using ad blockers

Wikia is not accessible if you've made further modifications. Remove the custom ad blocker rule(s) and the page will load as expected.