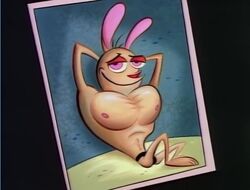 "Ren's Pecs" is a song featured on the Ren & Stimpy album You Eediot! Based on the episode of the same name, it is sung by a lonely Stimpy after Ren, having obtained pectoral implants, has gone to Hollywood.
To promote the album's release, Nickelodeon ran a music video of the song, set to clips from "Ren's Pecs" and other episodes of the show. The music video was included on the Ren & Stimpy In Disguise VHS.
Album releases
Ad blocker interference detected!
Wikia is a free-to-use site that makes money from advertising. We have a modified experience for viewers using ad blockers

Wikia is not accessible if you've made further modifications. Remove the custom ad blocker rule(s) and the page will load as expected.