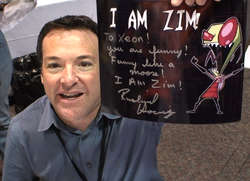 Richard Steven Horvitz, sometimes credited as Richard S. Horvitz, Richard Horvitz, or Richard Wood, (born July 29, 1966) is an American actor and voice actor best known for his work as the voice of the original Alpha 5 in Mighty Morphin Power Rangers, Power Rangers Zeo, and Power Rangers Turbo, as Raz in Psychonauts, Billy in The Grim Adventures of Billy & Mandy, Kaos from the Skylanders video game series, Pollux, Stuart Zurgo and the Zoni in Ratchet & Clank, Daggett in The Angry Beavers and the title character Zim from the show Invader Zim and as Orthopox in the Destroy All Humans! series. He continues to provide the voice of Zim, albeit mostly in video games, after the series was canceled in 2002.
Aside from his roles as Zim and Daggett, he also voiced Dr. Chipotle, Sr., and Dr. Chipotle, Jr. on El Tigre: The Adventures of Manny Rivera, various teenagers on Rugrats, and Chuck in the The Fairly OddParents backdoor pilot episode "Crash Nebula", and now voices minor characters on The Loud House.
External links
Ad blocker interference detected!
Wikia is a free-to-use site that makes money from advertising. We have a modified experience for viewers using ad blockers

Wikia is not accessible if you've made further modifications. Remove the custom ad blocker rule(s) and the page will load as expected.