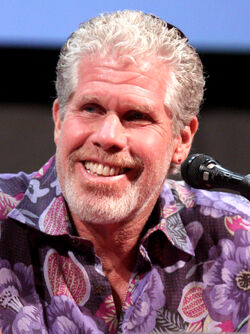 Ronald N. "Ron" Perlman (born April 13, 1950) is an American television, film and voice over actor. He is known for having played Vincent in the TV series Beauty and the Beast, Slade in the animated series Teen Titans, Clay Morrow in Sons of Anarchy, the comic book character Hellboy in both the eponymous film and the sequel, and as the narrator of the post-apocalyptic game series, Fallout. He is currently the narrator of the television series 1000 Ways to Die on Spike.
His first work with Nickelodeon was as Mickey Kaline on Hey Arnold! in the episodes "Dangerous Lumber" and "The Baseball". He later voiced Mr. Lancer on Danny Phantom and Fire Lord Sozin on Avatar: The Last Airbender.
Ad blocker interference detected!
Wikia is a free-to-use site that makes money from advertising. We have a modified experience for viewers using ad blockers

Wikia is not accessible if you've made further modifications. Remove the custom ad blocker rule(s) and the page will load as expected.