Rusty Rivets
Genre:
Adventure
Action
Hi-Tech
Comedy
Created by:
Joshua Fisher
Michael O'Hare
Directed by:
Brad Ferguson
Producer(s):
Bart Jennet
David Sharples
Executive producer(s):
Ronnen Harary
Laura Clunie
Theme music composer:
Peter Zizzo
# of seasons:
1
# of episodes:
26 (list of episodes)
Running time:
30 minutes
Original run:
November 8, 2016 -
Rusty Rivets is an upcoming animated television series, created by Joshua Fisher, Michael O'Hare and expected to be aired in November 8, 2016, on Nick Jr..
Synopsis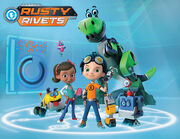 A boy named Rusty uses his knowledge of engineering to repurpose machine parts and create gadgets. He lives in the city of Sparkton Hills along with his best friend Ruby, a robotic tyrannosaurid named Botasaur, and a group of smaller robots known as the Bits. The show highlights a variety of concepts related to basic science and technology.
Ad blocker interference detected!
Wikia is a free-to-use site that makes money from advertising. We have a modified experience for viewers using ad blockers

Wikia is not accessible if you've made further modifications. Remove the custom ad blocker rule(s) and the page will load as expected.