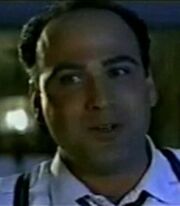 Stuart Scott Bullock
(born May 7, 1956), best known as
S. Scott Bullock
, is an American actor. Bullock is best known for his roles as Thunder in
Teen Titans
, Captain Bones and Lens McCracken in
Crashbox
, and Lamont in
Gargoyles
.
On Nickelodeon, he is best known as Dash Baxter on Danny Phantom, where he also voiced Klemper and Cujo, among others, Eddy "Edgar" the Jersey Cow in the Nickelodeon Movie Barnyard and its television spinoff Back at the Barnyard, Mr. Elliot in Invader Zim, and King Goobot in The Adventures of Jimmy Neutron: Boy Genius.
He also voiced Flappy Bob in the The Fairly OddParents episode "School's Out: The Musical", Psychic Juju in [Tak and the Power of Juju, Mad Cow on T.U.F.F. Puppy, and Dr. Damage in Butt-Ugly Martians. He also voiced T.Mitty in Breadwinners.
Ad blocker interference detected!
Wikia is a free-to-use site that makes money from advertising. We have a modified experience for viewers using ad blockers

Wikia is not accessible if you've made further modifications. Remove the custom ad blocker rule(s) and the page will load as expected.