Ad blocker interference detected!
Wikia is a free-to-use site that makes money from advertising. We have a modified experience for viewers using ad blockers

Wikia is not accessible if you've made further modifications. Remove the custom ad blocker rule(s) and the page will load as expected.
Salute Your Shorts
Genre:
American comedy television program
# of episodes:
26
Running time:
30 minutes
Original run:
June 1, 1991 - June 29, 1992
Salute Your Shorts is an American comedy television program that aired on Nickelodeon from 1991–1992 and in reruns until 1998.
The series, based on the 1986 book Salute Your Shorts: Life at Summer Camp by Steve Slavkin, is set at the summer camp Camp Anawanna. It focuses on teenage campers and their problems with both the camp and with each other.
The title of the show comes from a common prank campers play on each other: a group of kids steals a boy's boxer shorts and raises them up a flagpole. Hence, when people see the boy's boxers waving like a flag, other kids would salute them as part of the prank.
The show was filmed at Griffith Park in Los Angeles.
Cast
Episodes
Season 1: 1991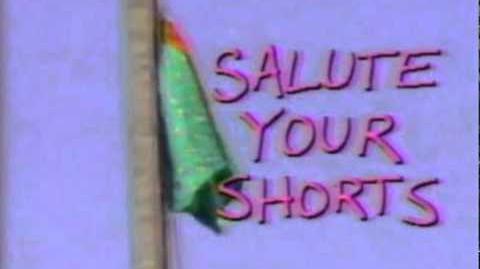 After the pilot episode was picked up for a full season, all of the actors had to audition for their roles.
Zeke, the Plumber
The Treasure of Sarah Madre
Brownies
Bunk Chief Elections
Toilet Seat Basketball
The Radio Call-In Contest
Donkeylips and Sponge Weigh In
Budnick and Michael Fake Being Sick
Cinderella Play
Donkeylips' Crush on Dina
Mail Carrier Mona
The Environmental Party
Season 2: 1992
Telly and the Tennis Match
Goodbye Michael, Hello Pinsky
Counselor Budnick
Dina and the Rock Star
The Cursed Skull
Budnick Loves Dina - Part 1
Budnick Loves Dina - Part 2
Sponge's Night Out
The Pinsky-Sponge Gazette
Capture the Flag
Park Ranger Mona
The Wrath of Kahn, Jr.
Anawanna Incorporated
See also