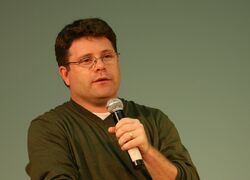 Sean Astin (born February 25, 1971) is an American film actor, director, voice artist, and producer better known for his film roles as Mikey Walsh in The Goonies, the title character of Rudy, and Samwise Gamgee in the Lord of the Rings trilogy. In television, he appeared as Lynn McGill in the fifth season of 24. Most recently, he provided the voice for the title character in Disney's Special Agent Oso.
He voices Raphael in the Nickelodeon animated series Teenage Mutant Ninja Turtles.
Ad blocker interference detected!
Wikia is a free-to-use site that makes money from advertising. We have a modified experience for viewers using ad blockers

Wikia is not accessible if you've made further modifications. Remove the custom ad blocker rule(s) and the page will load as expected.