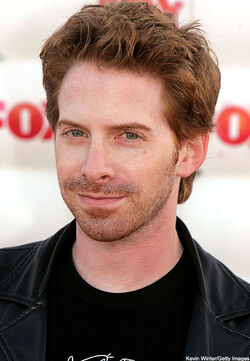 Seth Benjamin Green (born February 8, 1974) is an American actor, comedian, voice actor, television producer and screenwriter.
He is best known for voicing Chris Griffin on Family Guy and creating the stop-motion show Robot Chicken. Green's other television credits include playing Daniel "Oz" Osbourne on Buffy the Vampire Slayer and providing the voice of Rick Jones/A-Bomb and Rocket Raccoon on Hulk and the Agents of S.M.A.S.H.. Green's most notable film credits include portraying Scot Evil in the Austin Powers film series, Lyle in The Italian Job, and Patrick in Scooby-Doo 2: Monsters Unleashed. He was the voice of Eddie McDowd in the first season of 100 Deeds for Eddie McDowd and took over as the voice of Leonardo (replacing Jason Biggs) in the third season of Teenage Mutant Ninja Turtles.
Ad blocker interference detected!
Wikia is a free-to-use site that makes money from advertising. We have a modified experience for viewers using ad blockers

Wikia is not accessible if you've made further modifications. Remove the custom ad blocker rule(s) and the page will load as expected.