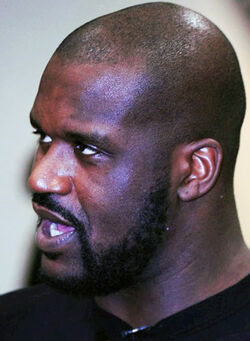 Shaquille Rashaun O'Neal (born March 6, 1972), nicknamed "Shaq", is a former American professional basketball player. Standing 7 ft 1 in (2.16 m) tall and weighing 325 pounds (147 kg), he was one of the heaviest players ever to play in the NBA. Throughout his 19-year career, O'Neal used his size and strength to overpower opponents for points and rebounds. In his career, he played for the Orlando Magic, Los Angeles Lakers, Miami Heat, Phoenix Suns, Cleveland Cavaliers, and Boston Celtics.
He appeared as himself in the 1997 Nickelodeon Movie Good Burger, and as the musical guest of the January 9, 1999 episode of All That, performing "Heat It Up". He also had his own special on Nickelodeon in 1996 called Nickelodeon's Sports Theater with Shaquille O'Neal.
Ad blocker interference detected!
Wikia is a free-to-use site that makes money from advertising. We have a modified experience for viewers using ad blockers

Wikia is not accessible if you've made further modifications. Remove the custom ad blocker rule(s) and the page will load as expected.