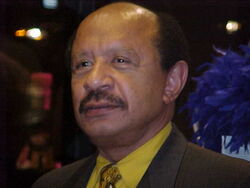 Sherman Alexander Hemsley (February 1, 1938 - July 24, 2012) is an American actor, most famous for his role as George Jefferson on the CBS television series All in the Family and The Jeffersons, and as Deacon Ernest Frye on the NBC series Amen. He also played Earl Sinclair's horrifying boss, a Triceratops named B.P. Richfield on the Jim Henson sitcom Dinosaurs.
He appeared in two season three episodes of All That. The first time, he played a doctor in the green room sketch of the February 1, 1997 episode with musical guest Nas, and then as the food critic in the "Good Burger" sketch that aired September 13, 1997 with musical guest Heavy D.
He was a guest panelist for an episode of Figure It Out.
Ad blocker interference detected!
Wikia is a free-to-use site that makes money from advertising. We have a modified experience for viewers using ad blockers

Wikia is not accessible if you've made further modifications. Remove the custom ad blocker rule(s) and the page will load as expected.